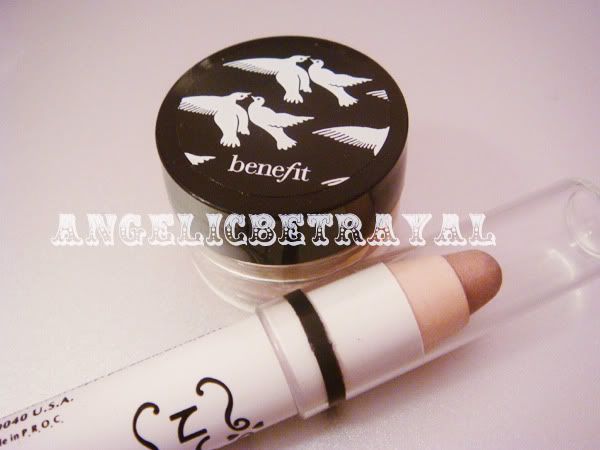 These two are some of my favorite color bases that I can use everyday to make my eyeshadows POP! I love my neutral eyeshadows and I can't get enough of shimmery champagne eyeshadows with hints of pink. The Benefit Creaseless Cream shadow in R.S.V.P and NYX's Jumbo Eye Pencil in Yogurt are perfect complements to pinky champagne eyeshadows.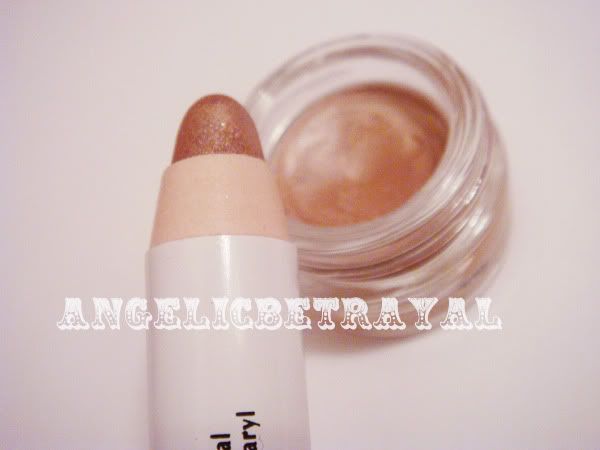 In the picture above, they look warmer than they are in real life but I guarantee you that they are a tad cooler. The Benefit shadow is usually $19 for .16 ounces. I got mine from the Sephora Stay Put Set which is still available
HERE
. I highly recommend you guys grab a set before they're out of stock!! The pot I have is .11 ounces but it is still a decent amount and it will take me a long time before I hit pan and it only cost me a mere $3 and change! Sometimes its a bit hard to get product with your fingertips since the jar is so small but I think using your fingers is the best way to blend out the base on your eyelid.
The NYX pencil is available from Cherry Culture
HERE
for $3.25 but I purchased mine from a local grocery store for $3. The pencil is easy to maneuver and you can simply brush the color onto your lid and blend it out with your fingertips. I have yet to sharpen my pencil but I feel like that can be a problem later down the road and I will probably depot my pencil when I need more product. There are lots of videos on youtube showing you how to do that :)
As you can see from the swatch, R.S.V.P is a bit lighter but when you blend yogurt out, they are almost identical. I use both on top of a base like Urban Decay Primer Potion but I would think R.S.V.P has better staying power on its own since its advertised as a "creaseless cream" and it isn't as soft as the pencil. Overall I love both products and use both on a regular basis. I don't know if I would purchase a full size of R.S.V.P for $19 and not sure if I would even need to for a few years. But if you get it in the $10 Stay Put Set, I'd say its well worth it!