Those of you who read my original Inglot palette post
HERE
will know that I was a bit peeved that the lady put the shadows randomly into the palette instead of the order I had on the tray. I also wanted to know the shades that I got so I could tell you guys and so I would know what I have already when I haul more shadows next time. I tried a few times to stick random thin objects like rulers into the palette to pry out the shadows but everything was too thick. The wiggle room for the shadows is probably less than one millimeter.... But I found a safety pin that originally held the
tag
on one of my Victoria Secret PINK bras (too much info?) and it look like the perfect size! Lo and behold, it fit right into the palette!
However, the pin was quite fragile given its extremely small size and after the depotting process you can see how damaged it is. The process took me about fifteen minutes or less since all you have to do is wedge something in the space and push the shadow pans out of the magnet. Those magnets are strong! I almost had ten separate heart attacks each time I was working on a pan. I did nick a few shadows with my nail and the pin but the damage was extremely minimal and barely noticeable. If you ever attempt this just take your time and be careful! Next time I think I will ask to take the pans and palette home separately so I can assemble it myself.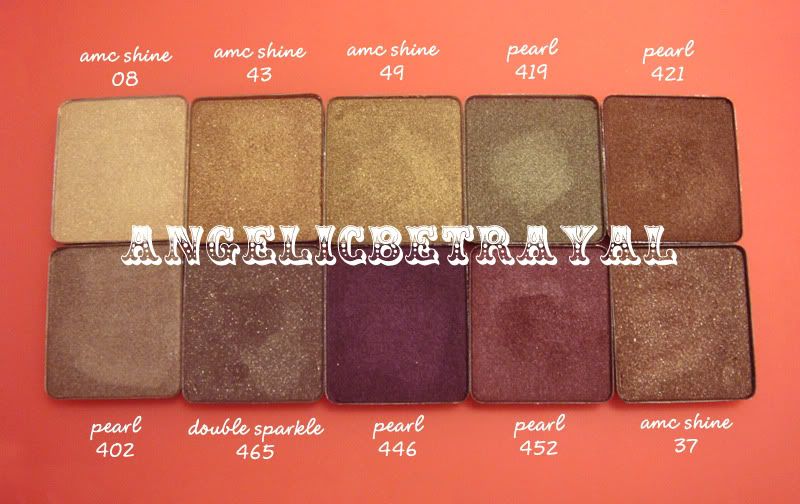 Here are the beauties again :) I swatched these shadows in the other Inglot post I did so just backtrack a little to find those. The top row looks more uniform than the bottom but it's not a big deal. I just wanted to separate the warm and cool colors.
There's a look at the back of the pans where a little sticker has the product information. If you have any questions about depotting or Inglot shadows in general, just ask :) I'd be happy to help!
Also, Inglot stores in the United States will not be raising their prices. Apparently the price increases will only take effect in Europe only!